Rights Reserved - Free Access.
This digital object is protected by copyright and/or related rights. This digital object is accessible without charge, but its use is subject to written permission.
Unless expressly stated otherwise in the licensing conditions, you are free to make any of the acts permitted by your national copyright and related rights act, including browsing, printing and making a copy for your own personal purposes.
All other acts of reproduction and communication to the public are subject to the licensing conditions attached to the digital object.
ARMY BOOTS OF THE WORLD. REVIEWS
Important notice: we do not sell any boots! The prices are given for information purposes only!
USA
US "Jungle" Boots with "Panama"-type out-soles
Despite the transition to the "Panama:-type out-sole in the end of the 1960s, the majority of "jungle" boots in Vietnam had "Vibram®"-type out-soles and now they can be much more commonly found than the "Panama"-sole boots. The Third Pattern "jungle" boots with "Vibram®"-type sole were produced from about 1965 to circa 1968.
There were different contract manufacturers of the U.S. "jungle" boots and/or soles, among which one should mention
Manufacturer of the boots
Manufacturer's code
A.H. Weinbrenner Co.
JS
A.R. Hyde & Sons Co.
GF
Addison Shoe Corp.
(Wynne, Ark.)
MB
Altama
PJ
Bata
NF, WS
Belleville
J
C. A. Eaton Co.
FS
Cannon Shoe Co.
R
Chaddock Terry Shoe Corp., Inc.
X
Corcoran
W
E. J. Givren Shoe Co., Inc.
SL (M43 boots)
Endicott Johnson Corporation
(Endicott, N.Y.)
FR, FP, FL, FN, BY
Freeman Shoe Corp.
FX
Genesco Inc.:
General Shoe Corp. (1950s)
Safety First Shoe Co. (Nashville, Tenn., 1960s)
GJ
HH Brown/Brown Shoe Co. Inc.
HB, CS, N
Hi-Pals Footwear, Inc.
(Waynesville, N.C.)
NH
International Shoe Co.
GZ, GV, GX, GY, GT, PG
J. Landis Shoe Co.
HR
J.F. McElwain Co.
HT
Kirkendall Boot Со.
KD
McRae Footwear
PH
Mid States Shoe Co.
HU
Newport Shoe Mfg. Co.
NB
Sportwelt Shoe Co. Inc.
KU
Wall-Streeter Shoe Co., Inc.
JP
Wellco
NS
Worcester Shoe Co.
KW
Manufacturers of the out-soles (and / or heels)
BF Goodrich, Biltrite, C.I.C., Goodyear, Light Tread, New Jersey Rubber Co., Panco, Ro-Search Lab (Wellco), Vibram
Many thanks to Maxim (mkova) for information assistance with the table!
The Third Pattern "jungle" boots with "Panama"-type sole were produced en-masse from 1967 and later, when the "jungle" boots were given OG107 nylon-webbing canvas tops in place of cotton duck. Besides more thick nylon webbing reinforcement stripes on the sides of the uppers, this model boots featured Spike Protective "Panama" mud-clearing out-sole.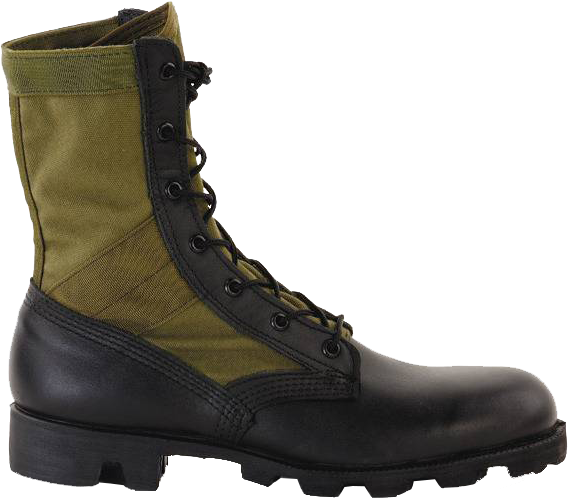 Though the "Panama" Sole with spike protection was approved in 1966 along with the new spike plate being added to the "Vibram®" sole, the production of such boots started only from circa mid 1967, perhaps due to the extensive process required to make new molds and because the manufacturers of the U.S. "jungle" boots still had existing contracts for the boots with old-type sole. From 1969 the manufacturing of boots uses "Panama" out-soles exclusively. Despite these production dates, the number of "Panama" sole boots never reached the issue numbers of the "Vibram®" sole boots during the Vietnam War.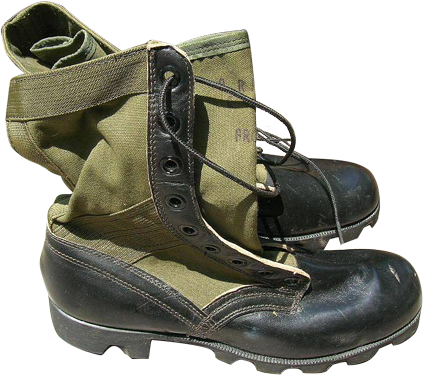 The name "Panama"-soles came from the "U.S. Army Tropic Test Center in the Panama Canal Zone" and "Panama Experimental Platoon" located in this Central American country and responsible for field tests of new experimental types of footwear, uniforms and equipment in tropical or jungle environments. The famous "Panama" sole tread pattern with sharp outer edges and smoother center portion was invented by U.S. Army Sergeant Raymond Dobie back in 1944. His concept of "self-cleaning tread" out-sole consisted in the using of a series of angled rubber lugs in the black synthetic rubber soles, the form of which allowed to push soft mud out from the soles, clear them and provide much better grip in mud, greasy clay, wet grass and other surfaces.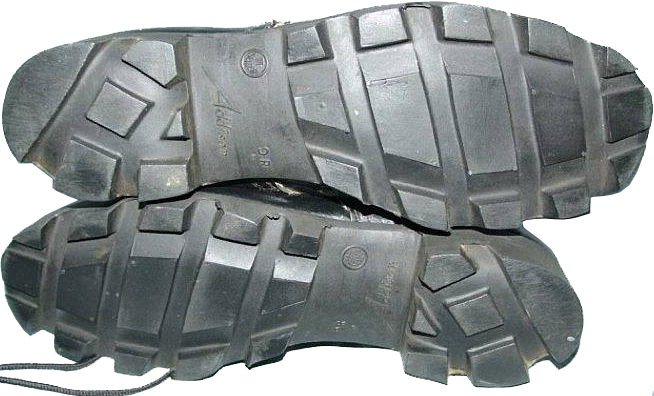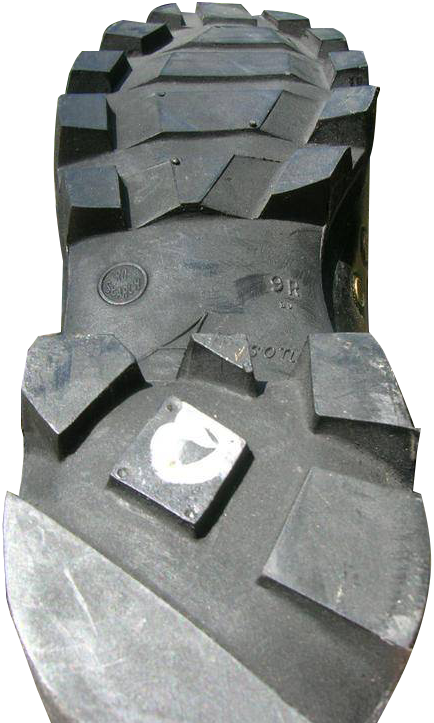 However, the approbation and tests took too much time, the WW2 was almost over, so both M-42 "jungle" boots and M-45 "Combat Boot, Tropical" used "Vibram®" soles with different tread patterns.
With the beginning of the Vietnam war, the official interest in "jungle" boots and other equipment grew up considerably. The first batch of 85 experimental pairs of the Third Pattern "Boots, Combat, Tropical, Direct Molded Sole with Spike Resistant Sole Shield Panama Soles" were tested by the "U.S. Army Tropic Test Center in the Panama Canal Zone" in the period from February 21 to June 21, 1966. These boots were tested during field exercises and local unit training by different troops, from special forces and airborne units to regular infantry and mechanized battalions and even the U.S.A.F. Tropic Survival School. An interesting fact - the tests of the spike protection feature weren't a part of this Panama field tests, and were conducted at other facilities of the U.S. Armed Forces. The tests brought to light some minor problems, and the "jungle" boots were found to be functionally suitable for both field and garrison wear in the hot, wet and humid climate. The shortcomings were corrected, and an improved "jungle" boots with the new "Panama"-type out-sole went in massive production from circa 1967.
What about the spike protective stainless steel plates, they were added to any further "jungle" boots production, including the newly produced models with "Vibram®"-type soles, as the "jungle" boots of previous patterns with "Vibram®"-type soles continued to be issued to the U.S. troops until circa 1969.
All the U.S. military footwear, including the "jungle" boots ("Boot, Combat, Tropical, Mildew Resistant, Spike Protective", "Boot, Combat, Tropical, Spike Resistant", "Boots, Hot Weather" - after May 1972), come with an "Instruction Tag" attached that provided instructions for use and care. If the boots were equipped with built-in stainless steel plates, it was indicated: "This boot is spike protective".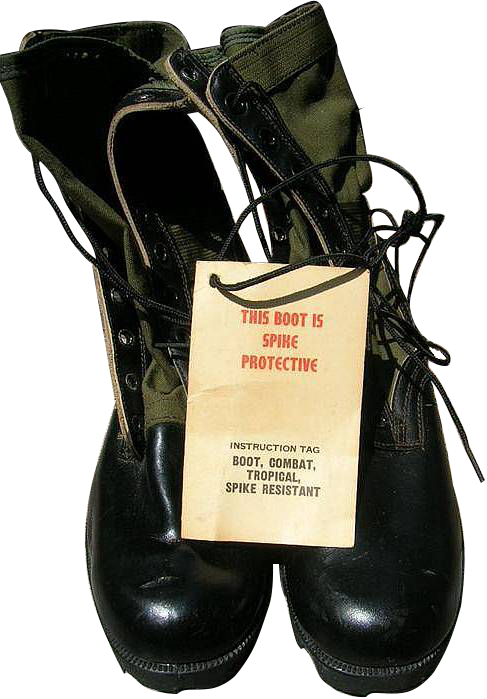 The Instructions for use included the following provisions:
1. Wear with: 1 pair socks, wool, cushion sole. 1 pair insoles, ventilating.
2. Sizes. The tropical boots are supplied in whole sizes 5 through 14 in all widths, in XN (Extra Narrow) width and 4 through 14 in N, R, W (Narrow, Regular, Wide) widths. In some instances it may be necessary to make a size adjustment in order to obtain and adequate fit due to normal swelling of the feet and the use of cushion insoles.
3. Pull on boots, seating heel firmly into place, then lace. Boots should fit snugly, but not tightly. There should be approximately 1/2 inch additional length at toe.
4. Trouser should be worn out-side of boot.
5. Carry extra socks with you. Change socks often, at least once daily. Remove boots, and dry feet as often as possible. Neglect of the feet can cause Jungle Rot and make you a casualty.
6. Brush mud and excessive dust off boots. To prevent leather from getting hard and stiff, wax often with shoe polish containing "Silicone".
7. Clean screened vents so that water will drain out.
8. Wipe inside of boot occasionally with a moist, soapy rag, and let dry.
9. As frequently as possible, dry boots and insoles in the sun. Do not place near intense heat, as this will destroy nylon, leather and plastic.
10. Before putting on boots in snake, insect, scorpion, or spider infested areas, carefully inspect the inside of the boots to avoid painful and disabling bites and stings.

During the Vietnam war a limited issue of experimental models of "jungle" boots with four pairs of hooks in the upper part of lacing instead of simple round eyelets was tested, but was not wide spread. This design is similar to the U.S.M.C. "Boondocker's" boots of the 1940-50s.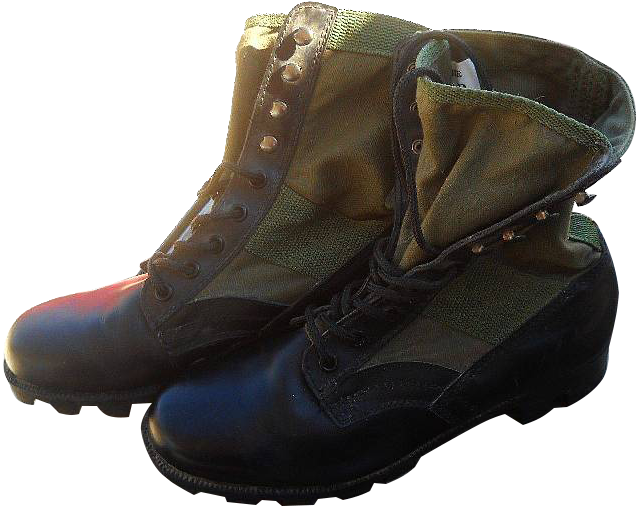 The real "jungle" boots of the Vietnam war times distinct from more late versions and even "fakes" with some features, among which one should mention an ink stamp that includes the date of manufacture on the reinforcing band at the boot's top or on the tongue of the boot.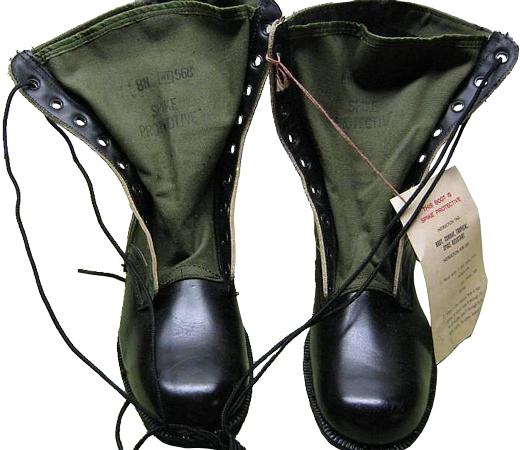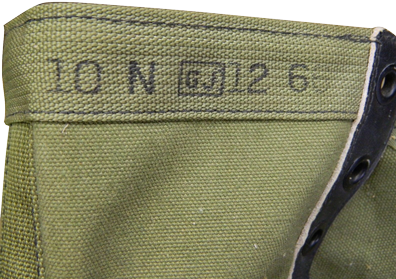 If this stamp is worn or can not be read, there is another very characteristic feature - a short stitch line on the heel of the boot running perpendicular to the sole. This sign is not a 100% guarantee of the "original" Vietnam war times boots, but the vast majority of original boots have this stitch.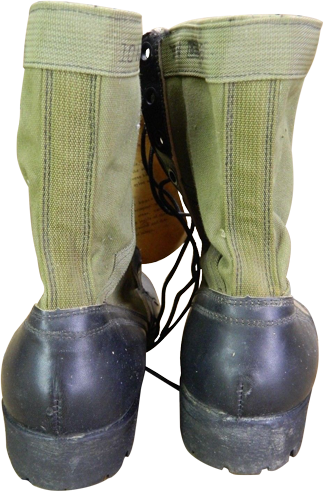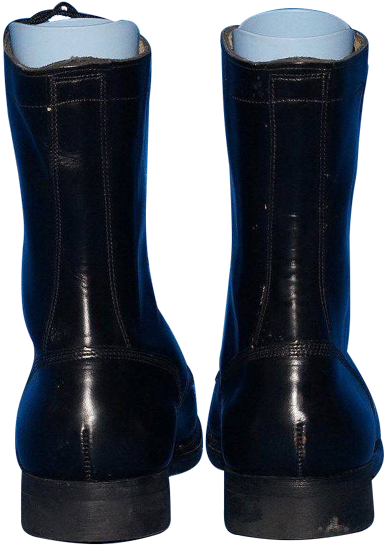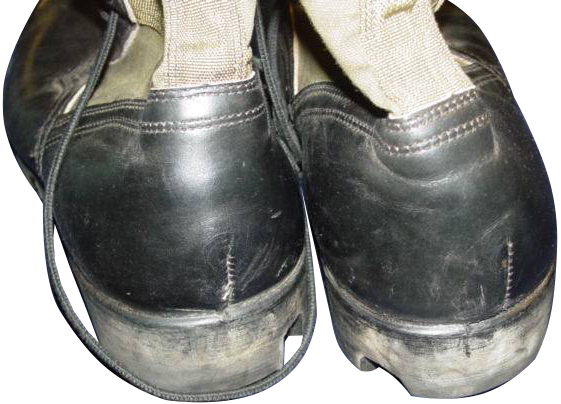 The popularity U.S. military "jungle" boots extended beyond the U.S. Armed Forces. Incredibly simple and effective "jungle" boots gained almost cult popularity among the U.S. allies in the Australian and New Zealand troops in Vietnam. Broken in the "jungle" boots really worked and were just as comfortable as any house shoes. The antiquated World War II vintage tropical studded all leather Ankle Boots of the allies (i.e. the standard-issue black leather GP (General Purpose) boots) not at all suited for jungle warfare, so the allied soldiers were going to great lengths to get a pair of "jungle" boots from American troops. They preferred to make trade their stuff, for example the Australian Army-issue "slouch hats" for a pair of American "jungle" boots which suited to the conditions of Vietnam.
The Special Air Service (SAS) troopers from Australia and New Zealand also extensively used American "jungle" boots during the course of the Vietnam War. In the post-Vietnam period these boots remained popular with the Australian military personnel, as they were allowed to wear the US military "jungle" boots with their combat uniforms until the replacement of the conventional GP boots for the new and advanced Australian "Terra Boots" in the year 2000.
Exclusively for cartalana.com

We have much more interesting information on this site.
Click Site Menu to check it out!
∎ cartalana.com© 2011-2020 ∎ mailto: koshka@cartalana.org