Rights Reserved - Free Access.
This digital object is protected by copyright and/or related rights. This digital object is accessible without charge, but its use is subject to written permission.
Unless expressly stated otherwise in the licensing conditions, you are free to make any of the acts permitted by your national copyright and related rights act, including browsing, printing and making a copy for your own personal purposes.
All other acts of reproduction and communication to the public are subject to the licensing conditions attached to the digital object.
ARMY BOOTS OF THE WORLD. REVIEWS
This Article Content / SITE MENU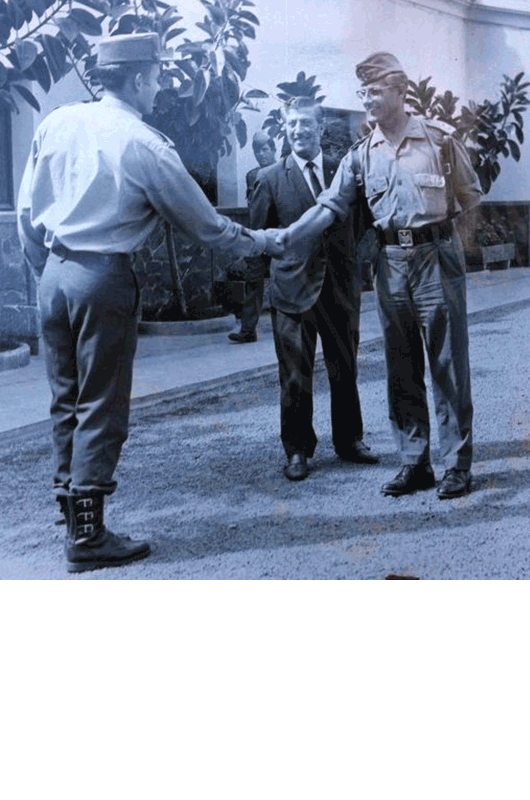 As one can see on the pictures above, the inside of the Spanish "Botas "Segarra" de tres hebillas" are made of rough-out natural leather with terry-like surface. This allows gooв temperature balance and ventilation, supported with the overall construction of these boots: the lower part is waterproof and rigid, it fixes the feet safely and protects them against mechanical injuries. But the upper part, which is safely closed with triple buckles and leather belts gives enough spare space for air circulation and natural extraction of the feet perspiration.
Then, elyeti wrote about his opinion about the modern boots: "Actualmente, es muy dificil encontrar botas con estas caracteristicas, sin goretex, una membrana que nos la venden como la crem de la crem, pero que no es para tanto, pues cuando la bota se moja no transpira y se moja el pie con el sudor... por que entonces si que no transpiran, en resumen que a mi personalmente no me gusta,aun teniendo un par de botas de ultima generacion con estos materiales. Despues de mucho mirar no encontre nada parecido a lo que utilicemos aquellos años castrenses, hasta que, tonto de mi, Segarra sigue fabricandolas, no las de 3 ebillas, si no las Paraka (las que utilizaban los paracaidistas, sin ebillas, de caña alta con cordon) y se nos caia la baba viendoselas en las maniobras conjuntas, en aquellos años heran las mejores..."
"At the moment, it is very difficult to find the boots with such characteristics without Goretex membrane, which they sell to us like the best, but that is not so much, because when the boot gets wet it does not perspire and thus the foot gets wet with the sweat. ... if they do not perspire, in short that I personally do not like, even having a pair of boots of the latest generation with these materials. After much looking I did not find anything similar to what we used those years in the Armed forces..."Segarra" is still making such boots, not those of 3 buckles, but the Parakas (the ones that have been used by the paratroopers, without buckles, laced high with the cord) and we were drooling over that good-looking boots when we saw them during the joint maneuvers..."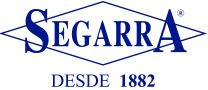 The "Calzados Segarra" company, founded in 1882, is situated in La Vall d'Uixó, a town in eastern Spain, in the Valencian province of Castellón. The company is known on the local Spanish market since the year 1882. Nowadays the company manufactures different types of footwear: military and hunting boots, work and safety shoes, trekking, mountaineering and hiking boots.
According to the web-site of the "Calzados Segarra", the company is still using the concepts, which are very attractive for modern customers, which hate cheap and low quality Asian fakes:

1) Handmade process - it still uses 100% of manual labor;
2) National manufacturing - its manufacture is carried out in national territory of Spain;
3) Using quality natural leather;
4)The out-soles are fully manufactured of rubber, a material of natural origin, totally recyclable and offering enormous resistance to flexion and abrasion, strong adhesion to the ground, and resistance to the wear.
The boots, which were mentioned by the aforementioned elyeti, are, in fact, manufactured by "Segarra" instead of "good old" triple-buckle boots, and which are commercially available under the brand name "Model 3001 Paraka" for about 42 Euro. The name "Paraka" comes from the Spanish word "Paracaidista", i.e. "Parachutist".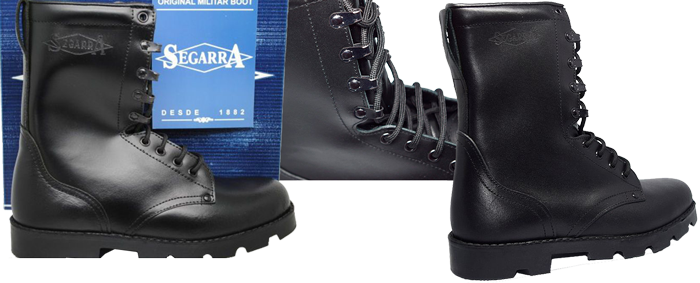 Of course, the modern "Model 3001 Paraka" boots are the modern version of the "good old" paraboots, and they feature such comfortable novelties as padded collar on the top of the boots, elements of quick-lacing system (four pairs of simple round eyelets in lower part of lacing are combined with four pairs of quick-lacing eyelets in the upper part and a pair of round eyelets on top), padded boot's tongue, leather loop for laces on top rear side, and modern "Panama-type" out-sole (Spanish version).
Exclusively for cartalana.com

We have much more interesting information on this site.
Click Site Menu to check it out!
∎ cartalana.com© 2011-2020 ∎ mailto: koshka@cartalana.org