ROYAL AIR FORCE. COMMON CORE AND DEPLOYMENT SKILLS AIDE-MEMOIRE
This Article Content / SITE MENU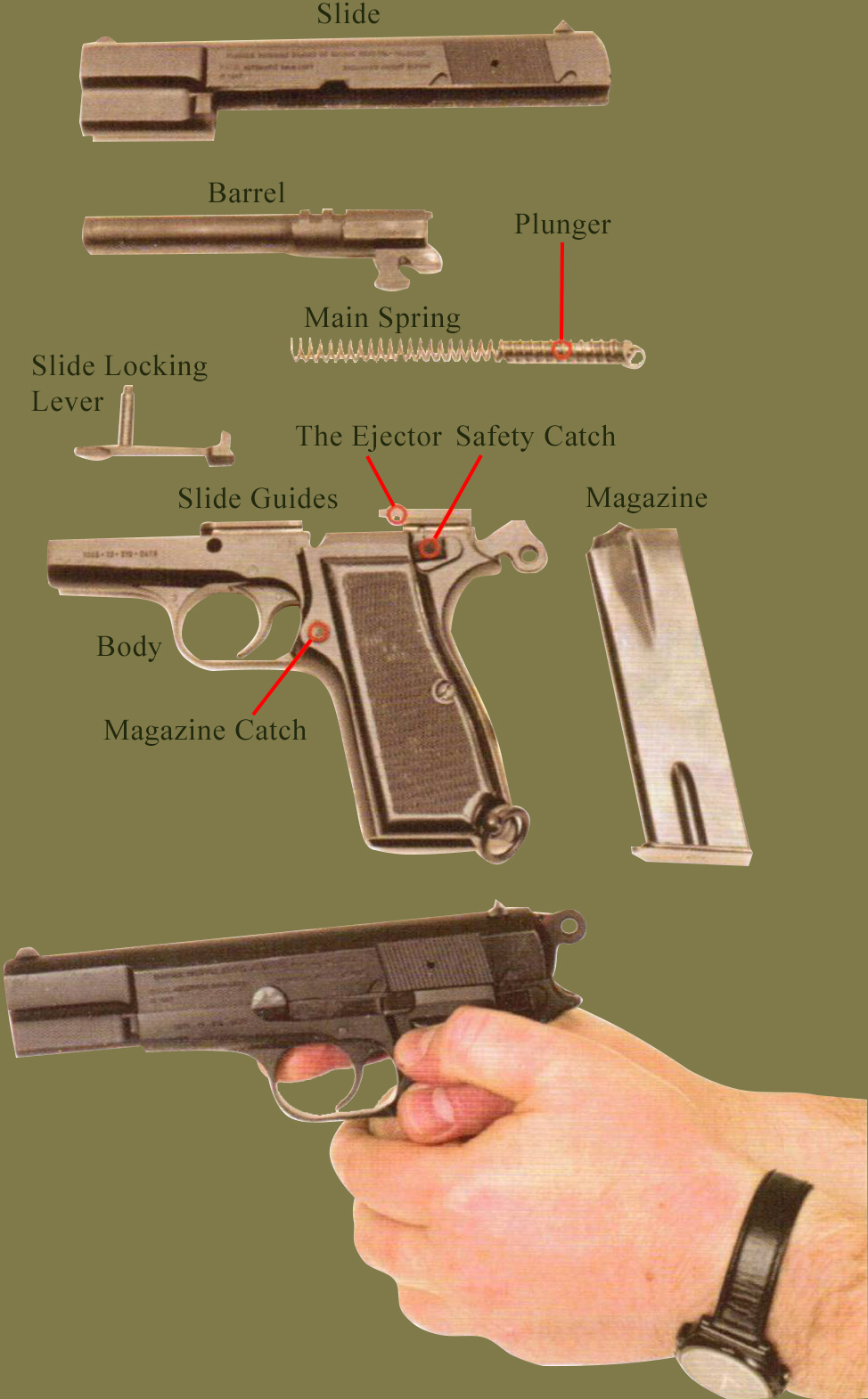 SAFETY PRECAUTIONS AND SAFE HANDLING
Normal safety precautions are to be carried out at the beginning and end of every lesson, practice or range period and immediately on returning to barracks, bivouac, tent or operational base and on completion of any patrol or duty.
◉ Adopt the 'draw pistol' position.
◉ Point weapon in a safe direction.
◉ Remove magazine, if fitted.
◉ Push up the slide locking lever and at the same time draw back the slide until the locking lever has engaged.
◉ Check that the weapon is clear. If handing over, show the weapon is clear to the recipient.
◉ Release the slide by pulling the slide fully to the rear and allowing it to travel fully forward under control.
◉ Put on an empty magazine, point the weapon in a safe direction and operate the trigger, remove the magazine.
◉ Place the pistol in its holster or hand it over, as applicable.
THE PISTOL CAN EASILY BE POINTED IN A POTENTIALLY DANGEROUS DIRECTION. THEREFORE, IT CAN BE A DANGEROUS WEAPON IF HANDLED CARELESSLY
◉ At night, or during poor light conditions, the chamber should be physically checked.
NOTE:
Before commencing stripping ensure that the pistol is clear.
NORMAL CONDITIONS
Dry clean, then examine for damage, stains or wear. Lightly oil the weapon and magazine.
HEAVY RAIN AND DAMP CONDITIONS
More oil should be applied to the metal parts and a careful watch kept for rust forming. In heavy rain the application of graphite grease will improve weapon operation.
TROPICAL HUMID CONDITIONS
Clean as normal but use the special issue lubricant, anticipating a rapid return of rust.
COLD AND EXTREME COLD CONDITIONS
Clean as normal but use oil sparingly. If the temperature warrants, a special lubricant will be issued.
DRY, SANDY OR DUSTY CONDITIONS
In such conditions the pistol must be kept dry. All traces of oil should be removed from the weapon by wiping with a dry rag. If rust appears remove it as normal, but take care to remove any oil that remains. Occasionally empty the magazines and tip out any grit.

/ page 6 from 65 /
desktop version of the page
We have much more interesting information on this site.
Click Site Menu to check it out!
∎ cartalana.com© 2011-2020 ∎ mailto: koshka@cartalana.org