ROYAL AIR FORCE. COMMON CORE AND DEPLOYMENT SKILLS AIDE-MEMOIRE
This Article Content / SITE MENU
YOUR ACTIONS
◉ Lie the casualty down.
◉ Reassure the casualty and keep them calm and still.
◉ Wash the wound.
◉ Wipe or pat the wound dry with clean swabs.
◉ Immobilise the injury.
◉ Lightly compress the limb above the injury with a roller bandage.
◉ If the casualty stops breathing be prepared to resuscitate.
◉ Arrange evacuation to medical aid.
YOUR AIMS
◉ Maintain airway, breathing, circulation.
◉ Attempt to discover cause.
◉ Remove any contaminated clothing.
◉ Arrange urgent evacuation to medical aid.
SIGNS AND SYMPTOMS
◉ Evidence, such as containers, vomit, tablets and smells.
◉ Casualty may be delirious.
◉ Possible difficulty in breathing.
◉ Unconsciousness may develop.
◉ Retching, vomiting or diarrhoea.
◉ Bums may be present.
GENERAL ACTIONS
Conscious Casualty:
◉ Ask casualty what happened.
◉ Beware of contamination.
◉ DO NOT induce vomiting.
◉ Place the casualty in the recovery position.
◉ Get medical aid immediately.
Unconscious Casualty:
◉ Beware of contamination.
◉ Carry out ABC of resuscitation.
◉ Place in recovery position.
◉ Evacuate urgently to medical aid.
The comfort, safety and well-being of the casualty are amongst your primary considerations and you must make sure that the casualty's condition will not be made worse by careless handling or movement.
◉ STRETCHERS
Do not use your hands to open the stretcher runners. They bite! Use your feet to kick them open.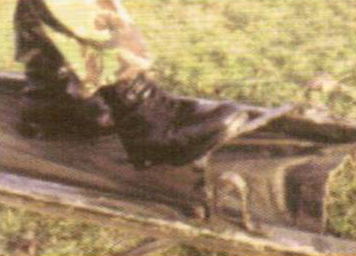 ◉ THE DRAG METHOD
The drag method involves pulling the casualty along the ground without lifting. It should only be used where a casualty is unable to stand and must be moved quickly from a source of danger.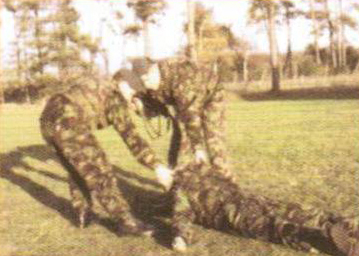 ◉ THE TWO-HANDED SEAT LIFT
The two-handed seat method is used to carry a casualty who is unable to assist the bearers.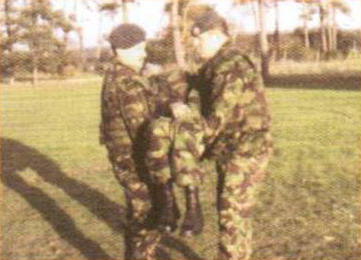 ◉ THE FORE-AND-AFT CARRY
The fore-and-aft carry is used to move a casualty to a stretcher or carry-chair.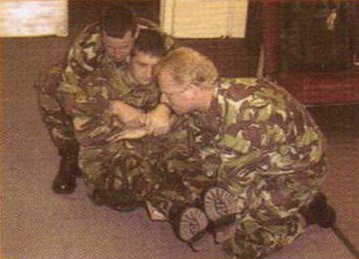 / page 25 from 65 /
desktop version of the page
We have much more interesting information on this site.
Click Site Menu to check it out!
∎ cartalana.com© 2011-2020 ∎ mailto: koshka@cartalana.org