ROYAL AIR FORCE. COMMON CORE AND DEPLOYMENT SKILLS AIDE-MEMOIRE
This Article Content / SITE MENU
c. See - Suspicious:
(1) Mist.
(2) Smoke.
(3) Droplets.
(4) Splashes.
d. Smell - Anything unusual.
e. Notice -Symptoms in yourself or others such
as:
(1) Dimness of vision.
(2) Irritation of eyes.
(3) Sudden headache.
(4) Tightness in the chest.
(5) Running nose.
(6) Excessive salivation.
f. Hear - An alarm.
You must assume it is a chemical attack and carry out the Chemical Immediate Action Drill (see Task 7).
Another indication of chemical attack is if the grey detector paper issued with your IPE and worn on your suit and equipment displays navy blue spots. This will happen when liquid chemical agent lands on it. This is why it must be placed where such liquid drops are likely to fall.
Liquid Chemical Agent on One Colour Detector Paper
Note: NATO Standard Detector Paper turns blue
Practice
a. Learn the Chemical Safety Rule. Write it out several times.
b. Remember that one colour detector paper is turned blue by any liquid chemical agent.
TASK 7. CHEMICAL IMMEDIATE ACTION DRILL
You have to be able to:
Complete the Chemical Immediate Action (IA) drill correctly and be masked within 9 seconds.
Study Notes
Learn the sequence of the IA drill and practise it until you do it as an automatic reaction to an alarm. You must be able to mask within 9 seconds.
The IA drill is as follows:
Put on your respirator as in TASK 2.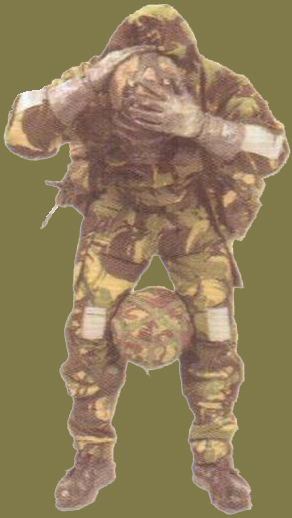 Put on gloves.
Check the adjustment of all clothing and equipment.
Check detector papers. Look for any sign of liquid agent.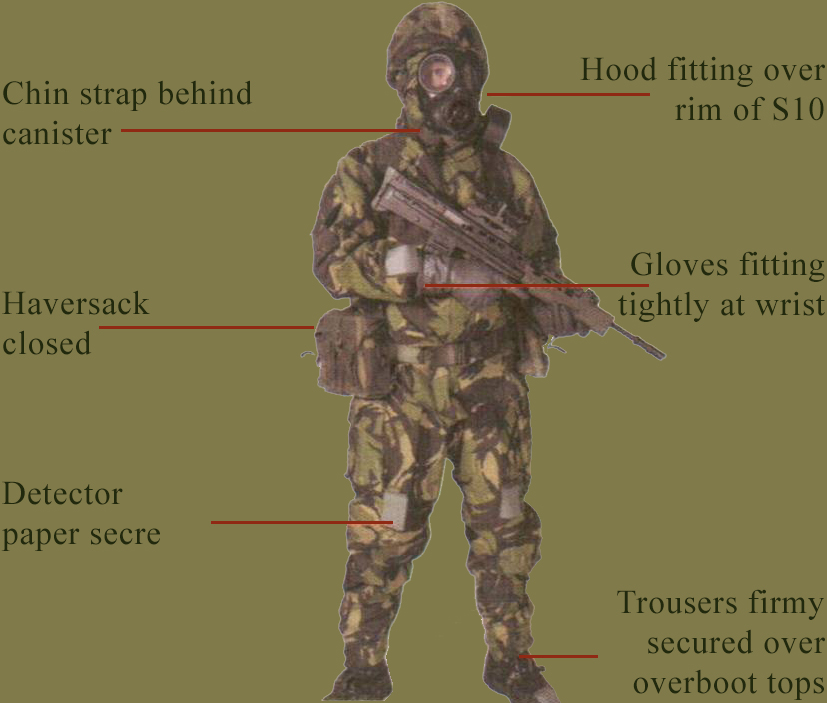 When you can complete the IA drill correctly and without thinking, you must then practise it while in your normal operational position, lying prone, in a slit trench and in a vehicle. The drill must be carried out IMMEDIATELY an attack is suspected.
Practice
a. Learn the sequence of the IA drill.
b. Practise the drill standing up wearing IPE.
c. Practise the drill in your normal operational setting.

/ page 32 from 65 /
desktop version of the page
We have much more interesting information on this site.
Click Site Menu to check it out!
∎ cartalana.com© 2011-2020 ∎ mailto: koshka@cartalana.org