ROYAL AIR FORCE. COMMON CORE AND DEPLOYMENT SKILLS AIDE-MEMOIRE
This Article Content / SITE MENU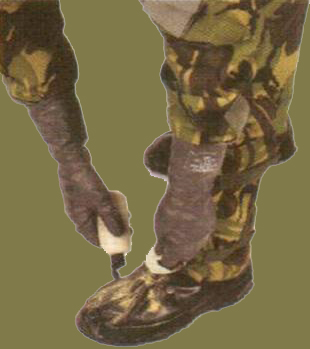 Modified ID Drill
If you are already in full IPE when you become contaminated you need only carry out a modified drill. This is necessary because after a time some agents may penetrate IPE. Decontamination will also reduce the danger of transfer. As before, get under cover or make sure no further liquid agent is falling before you start.
Decontaminate gloves, outside of respirator and overboots.
The Chemical ID drill is more quickly done in pairs but you must also be able to do it on your own.
Practice
a. Learn when to carry out the full and modified ID drills. Practise both drills.
b. Have someone check your drills.
c. Obtain a spare DKP 1 and DKP 2.
d. With the DKP 1 practise decontaminating:
(1) Your hands. Take care not to transfer contamination from one hand to the other.
(2) Your gloved hands. Again take care to avoid transfer of contamination.
(3) Your face, ears, neck and head.
(4) The inside and outside of your respirator.
e. With DKP 2 and DKP 1 practice decontaminating:
(1) The inside of your helmet and chin strap.
(2) Your overboots.
TASK 9. RECOGNISING THE SYMPTOMS OF NERVE AGENT POISONING
You have to be able to:
Recognise the symptoms of nerve agent poisoning in yourself or others. This is necessary if you are to counter such poisoning by using the Combo Pen (CP) self-injection device. However, using it when you haven't been exposed to nerve agent may make you ill.
Study Notes
Nerve agent may be met in the form of a vapour which you can neither see nor smell, or as drops of oily liquid which will also give off vapour. The first you know that you have been exposed to nerve agent may be the onset of the symptoms listed below. We have put them under 3 headings but the order in which these symptoms appear will vary with their route of entry into your body: through the eyes, nose, mouth or skin.
Early Symptoms
◉ Pinpointing of pupils and dimness of vision (miosis).
◉ Running nose, increased saliva.
◉ Tightness of chest, difficulty in breathing.
Later Symptoms
◉ Headache, increasing saliva, drooling at mouth.
◉ Dizziness and general weakness.
◉ Excessive sweating.
Danger Symptoms
◉ Nausea and vomiting.
◉ Involuntary urination and defecation.
◉ Muscle twitching and jerking.
◉ Stoppage of breathing.
Practice
Write down these symptoms and learn them.
TASK 10. SELF AID FOR NERVE AGENT POISONING
You have to know:
a. When to use your CP.
b. The symptoms of Atropine poisoning.
You have to be able to:
Follow the correct drills for injecting yourself with the CP.
Study Notes
If you are poisoned by nerve agent you must immediately use your CP to inject yourself with drugs to counter the nerve agent. Thereafter take NAPS only on medical instruction. However, if you should in error inject yourself when no nerve agent is in your body the Atropine in the injection may itself be harmful. You must, therefore, know not only the symptoms of nerve agent poisoning but also those of Atropine poisoning.

/ page 34 from 65 /
desktop version of the page
We have much more interesting information on this site.
Click Site Menu to check it out!
∎ cartalana.com© 2011-2020 ∎ mailto: koshka@cartalana.org