ROYAL AIR FORCE. COMMON CORE AND DEPLOYMENT SKILLS AIDE-MEMOIRE
This Article Content / SITE MENU
◉ Clear an area twice the size of the cooker to ground level, this will reduce the risk of fire.
◉ Wear a leather glove when handling hot items.
◉ Once finished all utensils must be washed and packed away immediately.
◉ Do not leave food lying around, as this will attract vermin.
◉ Dispose of all rubbish in an authorised area. If none is available keep hold of rubbish and dispose of it later.
WATER
◉ Only drink water from an authorised source.
◉ If you are in any doubt about the purity of the water, add purification tablets as instructed on the package.
◉ As a last resort boil the water for at least 10 minutes. Scum must be taken off the top, prior to cooling and then drinking.
EATING AT A MOBILE CATERING UNIT
◉ Wash hands thoroughly with soap and water before handling food.
◉ Remove as much dirt from boots and clothing as possible.
◉ If practical, remove camouflage cream.
◉ Thoroughly clean KFS/mess tins/mug/plates before and after use. If available use disposable items.
◉ Always dispose of waste food and rubbish in the correct areas provided.
◉ If the Alert Sate dictates ensure your weapon, respirator and helmet are close to hand.
◉ Have consideration for others.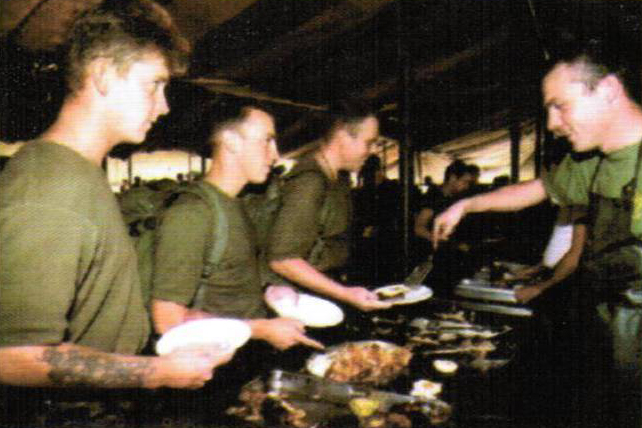 Your body will require time to adjust to new climatic conditions. Partial acclimatisation will start to occur within one week. It may take up to three weeks for your body to become fully acclimatised.
COLD CONDITIONS
◉ Dress correctly; remember the rule: 'loose and in layers'.
◉ Add and remove layers according to your work rate and body temperature.
◉ Maintain body temperature by increasing your intake of food and hot drinks.
◉ Keep socks and feet dry, wear insulated insoles.
◉ Avoid frostbite by protecting extremities, fingers, toes and nose.
◉ In extremes of cold, protect all exposed areas using vaseline and lipsalve.
◉ Learn to identify the signs and symptoms of hypothermia.
HOT CONDITIONS
◉ Dress correctly. Be aware that the desert can be extremely cold at night.
◉ Keep shirt collars fastened and shirt sleeves rolled down, to protect from sunburn and insects.
◉ Protect against sunburn with sun cream.
◉ Increase fluid intake to 8-10 pints of water per day. Alcohol causes dehydration.
◉ Learn the signs and symptoms of heat exhaustion and heatstroke.
SHELTER GENERAL PURPOSE (SGP)
The Service issue tent is manufactured from heavy-duty canvas, supported on a lightweight alloy framework of poles and brackets. Different variants of tent exist, however the principle of siting and erection remain the same. The design is such that the tents can be linked together as required, to provide a versatile and flexible shelter complex.
Discipline in the tented area is vital. You have a collective responsibility for the following:
◉ Site discipline for waste disposal.
◉ Site discipline for urination and defecation.
◉ Do not feed feral animals.
◉ Do not adopt local wildlife as mascots.

/ page 59 from 65 /
desktop version of the page
We have much more interesting information on this site.
Click Site Menu to check it out!
∎ cartalana.com© 2011-2020 ∎ mailto: koshka@cartalana.org