This Article Content / SITE MENU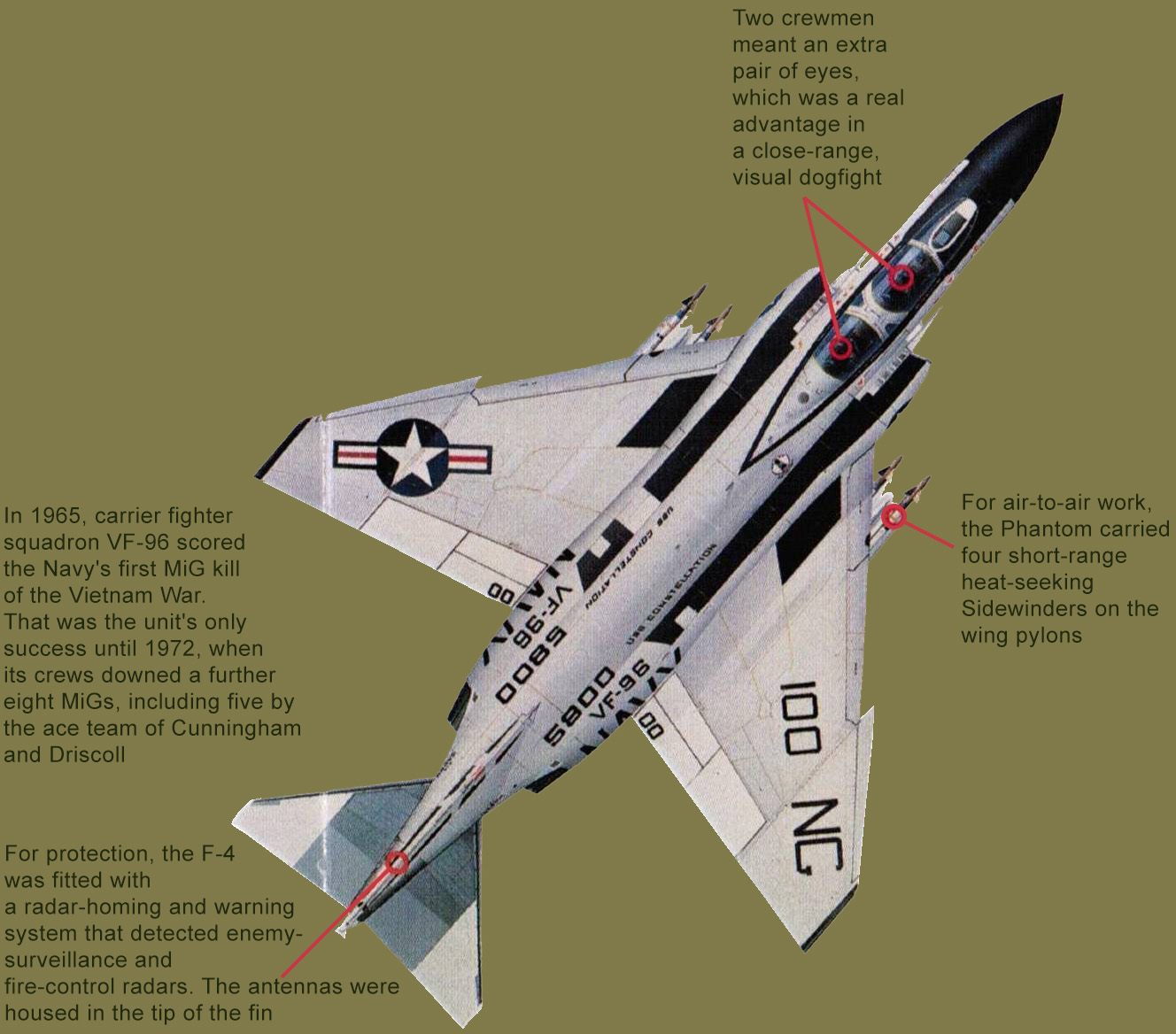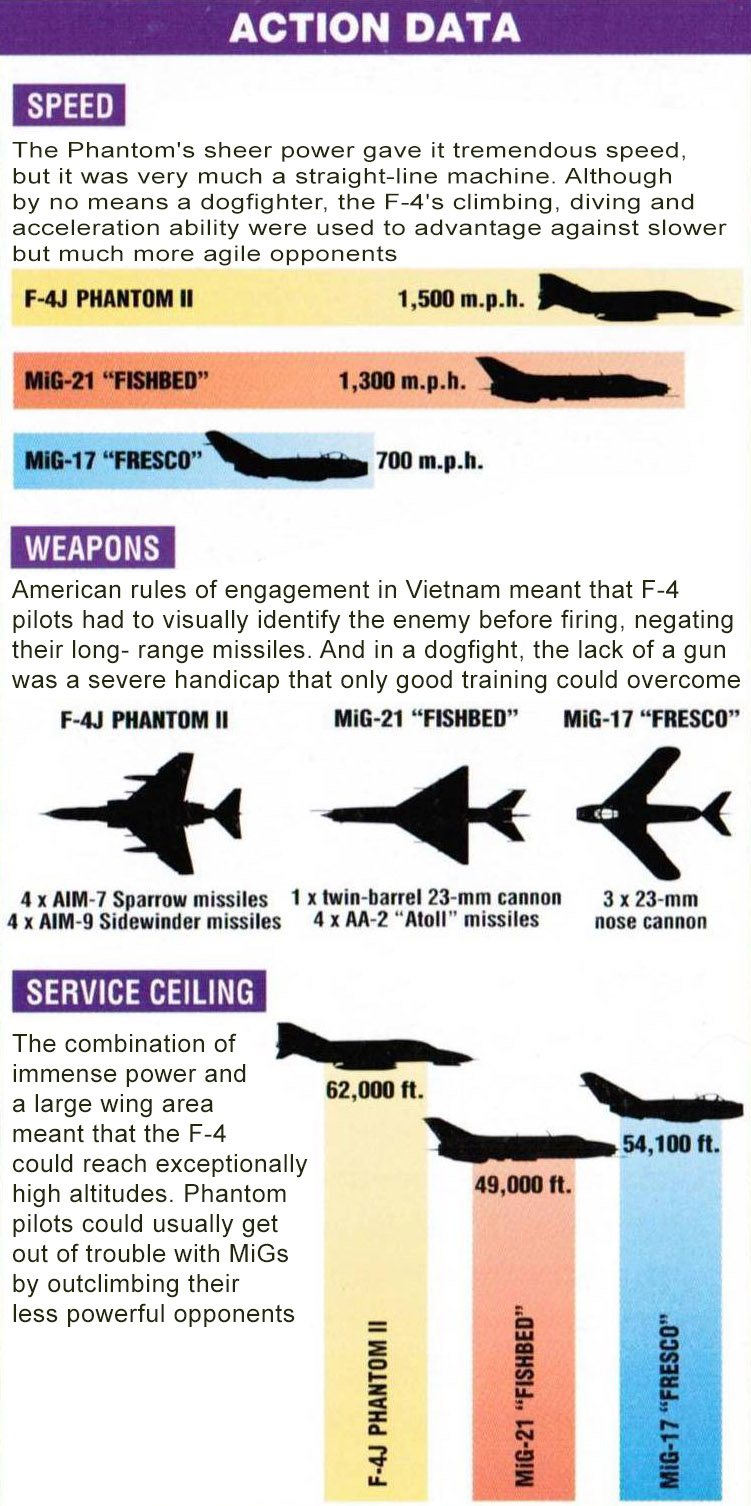 SPECIFICATIONS F-4J Phantom
Type: Two-seat carrier-based multirole fighter.
Powerplant: Two 17,900-lb.-thrust General Electric J79-GE-10 turbojets with afterburners.
Max speed: Mach 2.25 or 1,500 m.p.h.
Ceiling: 62,000 ft.
Combat radius: 900 mi.
Weights: Empty 29,700 lb.; loaded 54,600 lb.
Weapons: Typically: four AIM-7 Sparrow radar missiles and four AIM-9 Sidewinder infrared missiles. Maximum: up to 3,000 lb. of bombs beneath fuselage and up to 16,000 lb. of bombs under the wings.
Dimensions:
Span 38 ft. 5 in.
Length 58 ft. 5 in.
Height 16 ft. 3 in.
Wing area 530 sq. ft.
MiG-killers of May 10, 1972
THE NAVY TAKES ON THE MiGs:
May 10, 1972, was the Navy Phantom's big day over Vietnam. Flying from the USS Constellation, sister squadrons VF-92 "Silver Kings" and VF-96 "Fighting Falcons" blasted seven MiGs from the skies between them while a VF-51 crew shot down another for the Navy. To make matters worse for the North Vietnamese, Air Force Phantoms accounted for another three MiGs that day.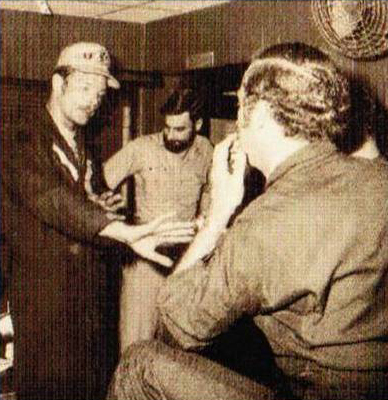 FIRST KILL OF THE DAY:
Lt. Curt Dose (seen here demonstrating his dogfight) and Lt. James McDevitt from VF-92 scored the first kill of May 10, after blasting their F-4s down the Kep runway to stir up the MiGs.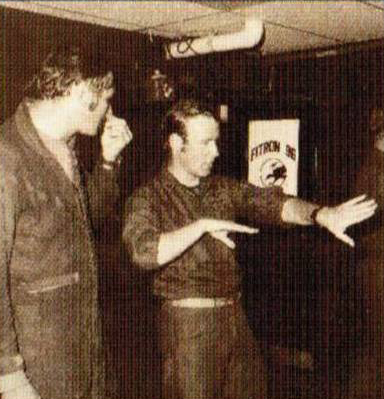 TWO MiGs IN ONE DAY: RIO Lt.
Thomas Blonski looks on as his pilot. Lt Matt Connelly, relives one of their duels with MiGs on May 10. Two MiGs fell to their AIM-9 Sidewinders that fateful day.

/ page 13 from 23 /
desktop version of the page
We have much more interesting information on this site.
Click Site Menu to check it out!
∎ cartalana.com© 2011-2020 ∎ mailto: koshka@cartalana.org