KEVIN LYLES
VIETNAM: US UNIFORMS IN COLOUR PHOTOGRAPHS
This Article Content / SITE MENU
US Army M1956/M1967 Load Carrying Equipment and accessories, for rifleman armed with M16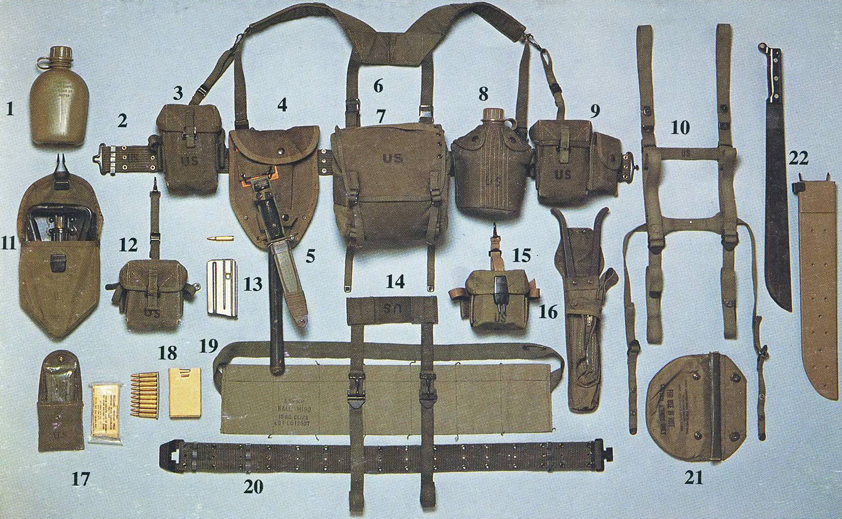 (1) One quart plastic canteen
(2) M1956 individual equipment belt
(3) M1956 universal smalls arms ammunition pouch
(4) Combination entrenching tool in M1956 carrier
(5) M7 bayonet in M8A1 scabbard
(6) M1956 suspenders
(7) M1956 combat field pack ('butt pack')
(8) M1956 canteen cover
(9) M1956 first aid/compass pouch
(10) M1956 sleeping bag carrier
(11) M1967 lightweight collapsible entrenching tool and carrier
(12) Small arms ammunition pouch M16A1
(13) 20-round M16 rifle magazine, with 5.56mm round
(14) M1956 pack adaptor strap assembly (used to convert the 'butt pack' into a back pack)
(15) M1967 small arms ammunition pouch Ml6, 20-round
(16) M16A1 rifle XM3 bipod/cleaning gear carrier
(17) M1956 first aid/compass pouch with two types of field dressing
(18) 'Stripper clips' of 5.56mm ammunition
(19) M193 rifle bandolier
(20) M1956 belt with 'Davis' quick-release buckle 01) XM28 lightweight protective mask carrier (22) M1942 machete in M1967 plastic 'self-sharpening' sheath
US Marine Corps M1961 Load Carrying Equipment and accessories, for rifleman armed with M14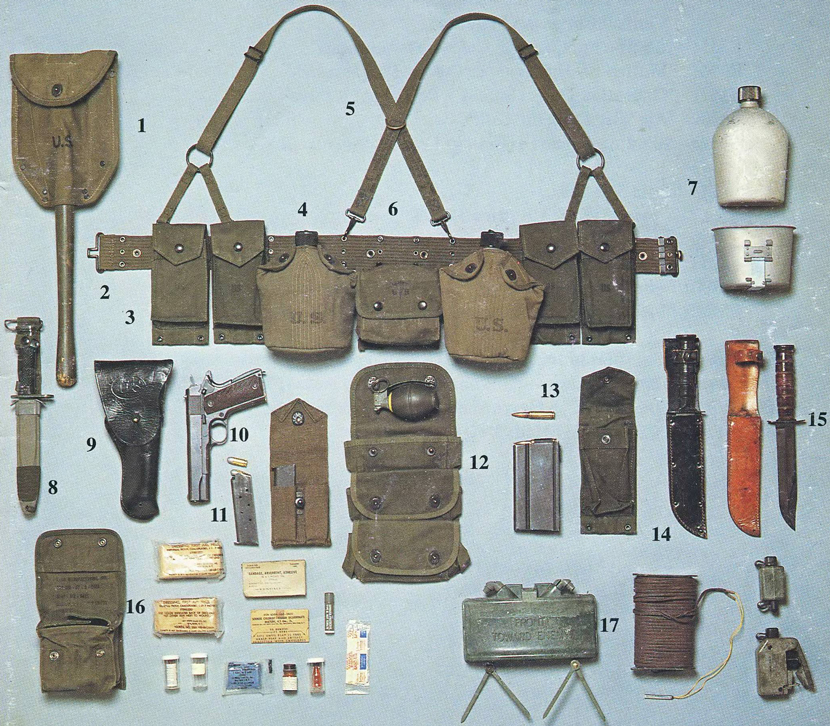 (1) M1943 entrenching tool and carrier
(2) M1961 rifle belt
(3) M1961 ammunition pouch
(4) M1943 canteen cover
(5) M1941 belt suspenders
(6) Marine jungle first aid kit
(7) M1910 type canteen and cup
(8) M6 bayonet in M8A1 scabbard
(9) Ml (M1916) pistol holster
(10) M1911A1 .45 cal. auto pistol
(11) Pistol magazine pouch with seven-round magazine
(12) Three-pocket grenade carrier with M26A1 fragmentation grenade
(13) 20-round M14 rifle magazine, with 7.62mm round
(14) 1960s contract 'K-Bar' utility knife
(15) 1940s contract 'K-Bar' utility knife
(16) Marine jungle first aid kit with full table of contents
(17) M18A1 APERS (Claymore) anti-personnel mine with electrical firing device M57, and electrical test set M40
The most accessible visual reference ever published to the actual appearance of the US fighting man on the ground in Vietnam. KEVIN LYLES, one of the most respected of today's military illustrators, has turned to photography - with live models, and an extraordinary range of original uniforms and equipment from many private collections - to present full colour, full length studies, from both front and rear, of more than 40 individual subjects. Infantry and Marines, armour crewmen and helicopter pilots, Special Forces and LRRPs, paratroopers and ARVN advisors, medics, nurses, MPs, RTOs, machine gunners - all are represented; and supplemented by close-ups of web gear, packs and their contents, insignia, etc. The photographs are accompanied by specific and detailed captions, talking the reader through the changes to uniforms and equipment during a decade of intensive, combat-led development. For collectors, historians, artists and modellers of the Vietnam War, this book is the one they've been waiting for since the 1970s.

/ page 46 from 46 /
desktop version of the page
We have much more interesting information on this site.
Click Site Menu to check it out!
∎ cartalana.com© 2011-2020 ∎ mailto: koshka@cartalana.org