MARK R. HENRY, MIKE CHAPPELL
THE US ARMY IN WORLD WAR II. THE PACIFIC
This Article Content / SITE MENU
Khaki service dress ('chinos')
Khaki cotton shirts and trousers were standard Class C issue throughout the war for wear in summer and in hot climates ('khaki' is used throughout this text in its American meaning of a pale sand colour, equivalent to British 'khaki drill'). They were worn all year round in the South Pacific. The long-sleeved shirt had a six-button front and two breast pockets with clip-cornered straight flaps. lies, when used, were black (M1936 and M1940) or more commonly khaki gaberdine/cotton (from 1942), and were worn tucked in below the second shirt button. Officers' shirts differed from the enlisted men's (EM's) version in having shoulder straps ('epaulettes'); an officer's khaki gaberdine shirt was also available as a private purchase. Some officers' shirts had square pocket flaps, some pointed or three-pointed. The matching trousers were straight cut. with slash side and rear hip pockets. An inch-wide khaki webbing belt with a bronze open-frame buckle was used with the EM's trousers; officers' belt buckles had a smooth brass face plate. Long khaki shorts were also authorised but rarely worn.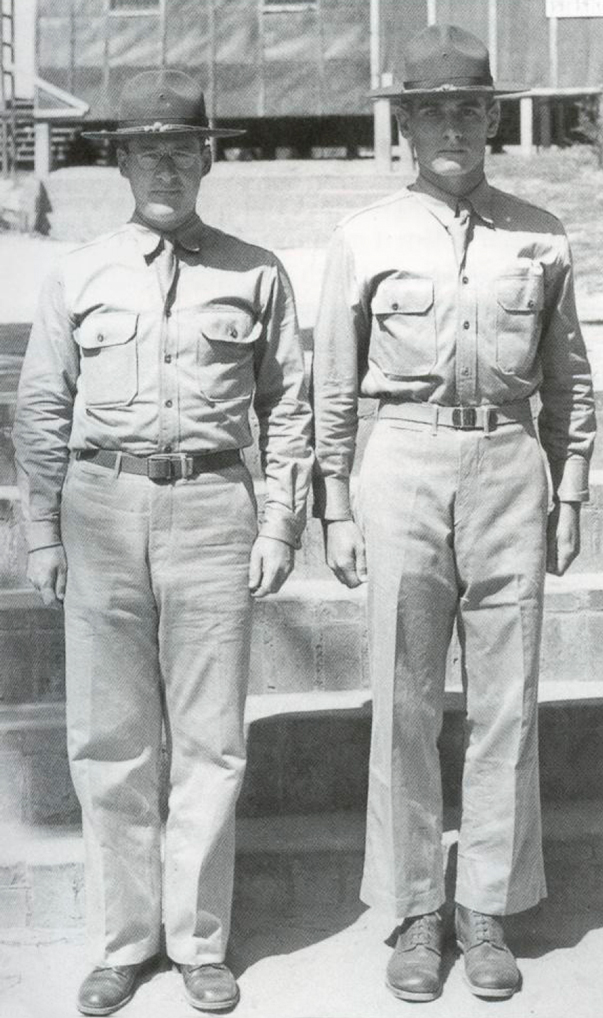 A clear view of two garrison privates in khakis, c1941. Note the creased trousers, tucked-in ties, and campaign hats with coloured hat cords; enamelled metal unit crests were commonly worn on the front of these hats. They would soon be supplanted by khaki overseas caps. It was not uncommon, if somewhat provocative, for enlisted men to wear officers' quality items; the private on the right wears an officer's buckle.
An officers' khaki cotton four-pocket service coat had been in use prior to Pearl Harbor. In September 1942 a khaki gaberdine version, with a slightly synthetic appearance, was authorised for officers; some early examples of this coat had a cloth belt. In the CBI, officers commonly wore variations on British khaki four-pocket tropical/bush jackets with US insignia added.
The visored khaki service hat (M1938) was standard issue before the war, but its issue was reduced in favour of the overseas cap (also commonly referred to as a garrison cap). This sidecap, inspired by British and French models, was first issued in the mid-1980s. It was later piped along the top and front edges of the turn-up curtain in branch of service colours (e.g. infantry, light blue); but by 1943 the EM's version was usually unpiped. Unit crests were sometimes pinned to the left front. Officers wore the same cap as the enlisted men but with mixed black and gold piping in place of branch colour, and with rank insignia pinned on the left front; general officers' caps were trimmed in gold.
In 1941, the Army's prewar Montana-peaked M1911 field/campaign hat also became a limited issue only, in favour of the overseas cap. A regimental crest was mounted on the centre front of the campaign hat; enlisted ranks wore branch-coloured hat cords, and officers mixed black and gold cords. This hat was sometimes worn with a narrow brown leather chinstrap.
Chinos were also intended as a combat uniform in hot climates but were rarely worn as such after the 1941-42 Philippines campaign. Khaki was rapidly found to be the wrong colour for battle, and the garments were entirely too lightly constructed. After the Philippines, it was agreed that the green herringbone twill work uniform was the only acceptable alternative for tropical combat.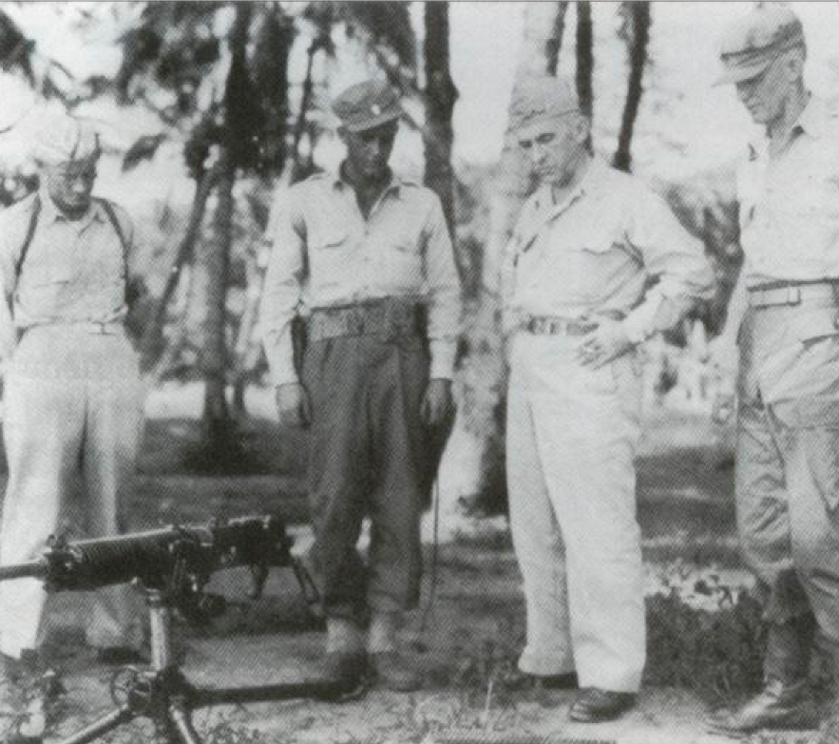 In a training area at Hollandia in 1944 the 6th Army's Gen Walter Krueger (second right) discusses the merits of a Japanese 7.7mm machine gun with members of the 'Alamo Scouts' - a long range reconnaissance unit which he raised late in 1943, and which carried out its first mission in the Admiralties the following February. The group show a mixture of khaki shirts (with insignia), overseas caps and trousers, with green HBTs and fatigue caps; note the long bill of the ('swing' type?) cap at far right.
Officers pinned their rank insignia near the end of coat epaulettes or on the right shirt collar. They were usually removed in combat to avoid drawing attention; indeed, in the Pacific the activities of enemy snipers made the wearing of any insignia on the battlefield quite uncommon. Officers sometimes pinned their rank under their collars or pocket flaps. (In combat in the European theatre an officer might wear his rank and branch insignia on his shirt collar under cover of a plain jacket.) Woven rank insignia in dull silver or golden thread were used as well as the metal equivalents.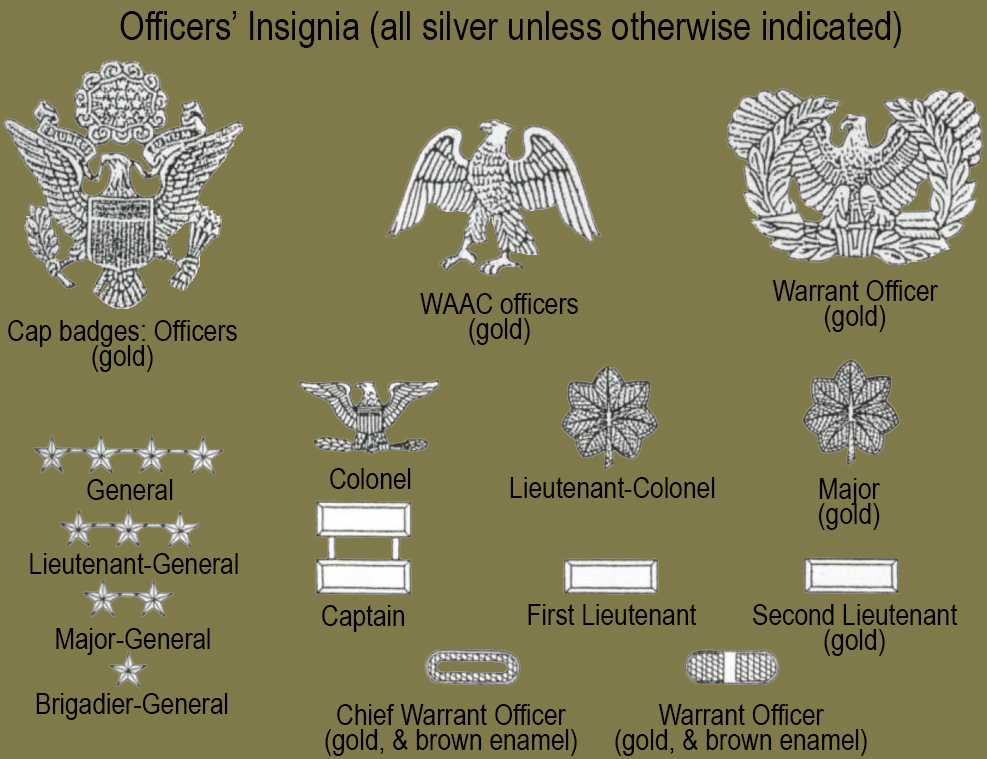 Company grade officers were warrant officers, second- lieutenants, lieutenants and captains; field grades were majors, lieutenant-colonels and colonels; general officers were brigadier-generals and above. Warrant officers ranked below second-lieutenants but were officers and were saluted by enlisted ranks. The grade was created to fill special technical jobs; they had most of the privileges of officer rank with limited specific responsibilities. Warrant officers were commonly glider pilots, ordnance and administrative specialists, etc; they wore a special pattern of hat eagle badge and rounded bars for rank.

/ page 3 from 25 /
desktop version of the page
We have much more interesting information on this site.
Click Site Menu to check it out!
∎ cartalana.com© 2011-2020 ∎ mailto: koshka@cartalana.org