MARK R. HENRY, MIKE CHAPPELL
THE US ARMY IN WORLD WAR II. THE PACIFIC
This Article Content / SITE MENU
The GIs found the M1 steel pot to be a versatile piece of gear; one Army nurse declared that it had 21 uses. Besides headgear, it was most commonly used as a washbasin, entrenching tool, or seat.
Another headgear used by the Army from 1941 was the sunhelmet. This was to be seen early in the war, and was made of a khaki-covered molded fibre; it had numerous grommet airholes and a narrow leather chinstrap. It was later reissued in a slightly darker greenish khaki. The sunhelmet was unpopular and rarely seen in use in the field.
The red/brown 'russet' leather ankle boot (actually termed the 'service shoe') was used by the Army for both garrison and field use in 1941. Called by collectors 'type 1', it was made 'smooth side out' with a toecap and a leather sole. The 'type 2' model of the US ankle boot appeared in late 1941 and featured a composite rubber/leather sole. The 'type 3' boot of 1943 was a 'rough side out' version with an all-rubber sole. In mid-1943 a simplified 'reversed upper' ankle boot was issued; this was 'rough side out' and had no toecap. The 'type 3' and 'reversed upper' boots were for field use only and were heavily treated or dubbined for weatherproofing.
The M1943 or 'buckle boot' began to be seen in both the Pacific and ETC) in late 1944 and rapidly became a favourite. It was made of rough-out leather, and its 16in (40.6cm) height, incorporating an ankle piece closed by straps and two dull steel buckles, obviated the need for leggings. It replaced both the ankle boot/leggings combination and the paratrooper boot as the standard Army-wide footwear.
The Army issued OD green socks of cotton and synthetic mix. These were usually made with extra material woven into the sole area for extra cushioning. Such socks are still issue in the current US Army. Off-white woollen winter or civilian socks were also used.
Light green/khaki M1938 canvas leggings were issued to be worn over the issue ankle boot, to keep out the dust, mud and bugs. Once they were in, the leggings kept them in - and also prevented water from draining away after wading. The standard pattern made of #6 duck canvas used nine brass hooks on the side for lacing, while later versions had eight hooks; each hook had two facing eyelets, so getting the leggings on or off was a time-consuming chore. In both the Pacific and Mediterranean theatres leggings were sometimes cut short or simply dispensed with. In hot weather trousers were commonly worn hanging unbloused over the leggings or boots.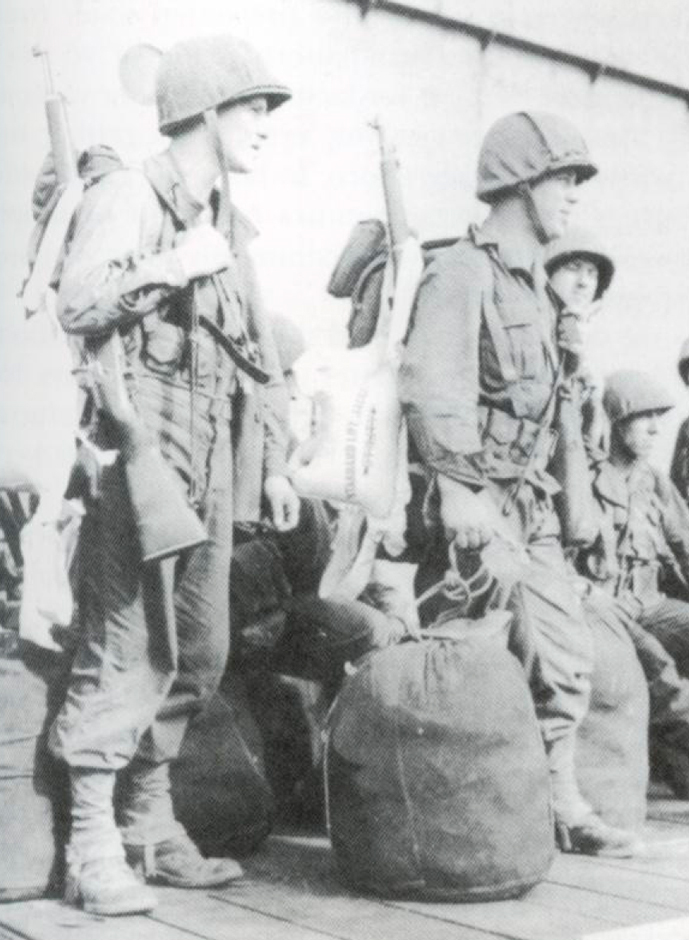 On board ship en route for New Guinea, late 1942: GIs of the 32nd Division armed with a mix of Garands and Springfields - the latter probably for rifle grenadiers only. Note locally-made cloth helmet covers, and first pattern HBTs with buttoned cuffs. Their kit is stowed in general purpose barracks bags.
In the Pacific, the coral sand and rocks and the sodden jungle floor abraded or rotted the soles off boots in a matter of weeks if not days No real solution was found for this problem, though Australian-produced hobnailed GI boots provided better traction. (Hobnailed GI boots were also made in England in small numbers, and used in the ETO.)
Standardised in August 1942, a specially designed jungle boot began to be issued in the South-West Pacific late that year. It was essentially a canvas tennis shoe with the ankle extended to a height of 11 ins (28cm) The sole, welt and toe were rubber, moulded directly to a green canvas upper and leg. Above the ankle the laces passed through hooks instead of grommets, for speed; and there was a full-length sewn-in bellows-type tongue behind the lacing. The jungle boot was light, dried quickly, and was good for quiet work; unfortunately it lacked support for the foot and , ankle. 1 he high top chafed the leg, and was often cut short. The jungle boots were only a limited success; but after the standard shoe they did not go unappreciated - one admiring Merrill's Marauder described the feel of them as like 'walking barefoot over the bosoms of maidens'. By 1945 a leather and canvas jungle boot not unlike the modern US pattern was developed, but it was too late to see wartime service.
Officers might wear any number of boots for field use, from the issue low- quarter to paratrooper boots. Special three-buckle, high- topped cavalry buckle boots I were sometimes worn by senior officers.
A rubberised drab canvas j long raincoat (M1938) was i standard. This unlined 'slicker' was liked in Europe but was too awkward and heavy to carry around all the time (and unfortunately, it also gave GIs the same silhouette as greatcoat-wearing Germans). This raincoat had a five-button front and a broad vented back panel.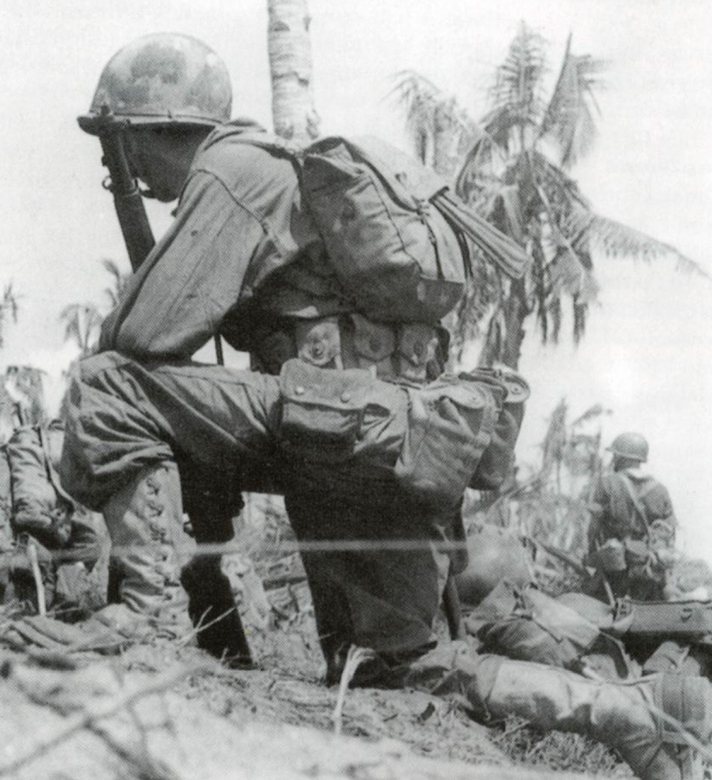 Leyte, 1944: this kneeling rifleman from a 96th Division machine gun team provides a classic view of the GI in the Pacific theatre. Note his smudge-camouflaged helmet, jungle first aid kit, two canteens, and M1936 musette bag worn as a pack (with a weapons cleaning kit protruding).
The Marine issue camouflage poncho was quickly copied by the Army in green for Pacific use. It served GIs as a tent section, groundsheet, equipment cover, and rainwear. It was issued first in a heavy treated canvas (weighing 3.21bs - 1.4kg) and later in a form of straight green ripstop nylon (weighing 1.2 lbs - 0.5kg). It had a drawstring neck but no hood; the edges could be snap-fastened together to make sleeves.

/ page 7 from 25 /
desktop version of the page
We have much more interesting information on this site.
Click Site Menu to check it out!
∎ cartalana.com© 2011-2020 ∎ mailto: koshka@cartalana.org