MARK R. HENRY, MIKE CHAPPELLTHE
US ARMY IN WORLD WAR II. NORTH-WEST EUROPE
This Article Content / SITE MENU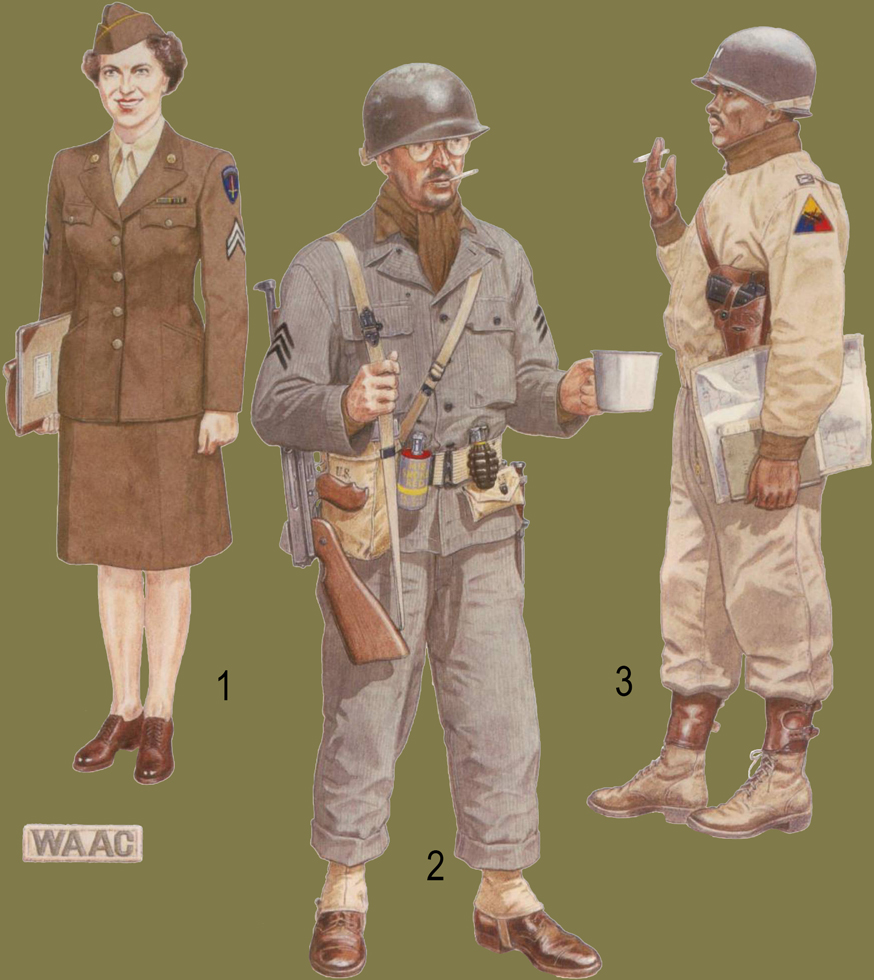 1: Corporal, Women's Army Corps; Supreme Headquarters Allied Expeditionary Forces, Versailles
This WAC corporal is serving at SHAEF as a member of the Signal Corps, thereby 'freeing a man to fight'. By the end of the war 140,000 WACs were serving in the US Army. She wears the new WAC curved-cut overseas cap piped with the old gold and light green branch colours; these were in short supply, and many WACs wore the men's overseas cap without piping. The tailored female service dress uniform with plastic buttons bears US and Signal Corps collar discs, though the WAC's own Athena-head emblem was often worn. She wears ribbons for the ETO and the WAC Medal marking service in the pre-1943 WAAC. By the end of the year WACs in the ETO could expect to receive the short WAC 'Ike' jacket. Her laced russet brown shoes were known as the 'gruesome twosome' due to their appearance and fit. She carries an issue shoulder bag ('purse'). (Inset) This tab in WAAC colours was ordered worn on the sleeves, below any rank chevrons, from 25 March 1942.
It was discontinued in July 1943 when the WAAC was transformed into the WAC - from Auxiliaries into full members of the US armed forces.
2: Sergeant, 104th Infantry Regiment, 26th Infantry Division
This NCO from the New England National Guard 26th 'YD' or 'Yankee Division', taking a coffee break, wears M1943 HBT fatigues over his wool uniform. Promotion came quickly in combat, and his rank has been hastily inked onto his sleeves. He is armed with an M1 (side-bolt) Thompson SMG, and carries smoke and fragmentation grenades. His small haversack-style bag is a limited issue item for holding 30-round Thompson magazines. This sergeant's wire-framed glasses are standard GI issue. The 'YD' division first saw action around Metz in November 1944, where it worked closely with the 761st Tank Battalion.
3: Captain, 761st Tank Battalion (Colored); Metz, November 1944
By VE-Day the Army had two Tank (761st & 784th) and two Tank Destroyer (614th & 827th) battalions of black GIs. When they joined his 3rd Army the essentially racist Gen George S. Patton told the 761st, 'I don't care what colour you are as long as you go up there and kill those Kraut sons-of-bitches'. For its record in World War II this crack battalion would receive a long-delayed Distinguished Unit Citation only in 1978. The 761st worked comfortably with the 26th Infantry and 17th Airborne divisions, but did not fare as well when serving with other divisions of a more Southern origin.
African-American GIs wore all the standard uniforms and insignia of the US Army. This captain wears the tanker's jacket (some officers had theirs modified by adding epaulettes), and the bib-fronted cold weather overtrousers. His rank is shown on his helmet, and pinned through leather patches to the jacket shoulders. The M1 was worn along with the armoured crew helmet by tank personnel - and sometimes even on top of it. Like many tankers, this officer sports a .45 pistol in an M7 shoulder holster.

/ page 20 from 24 /
desktop version of the page
We have much more interesting information on this site.
Click Site Menu to check it out!
∎ cartalana.com© 2011-2020 ∎ mailto: koshka@cartalana.org