RENÉ CHARTRAND, ILLUSTRATED BY RON VOLSTAD
CANADIAN FORCES IN WORLD WAR II
This Article Content / SITE MENU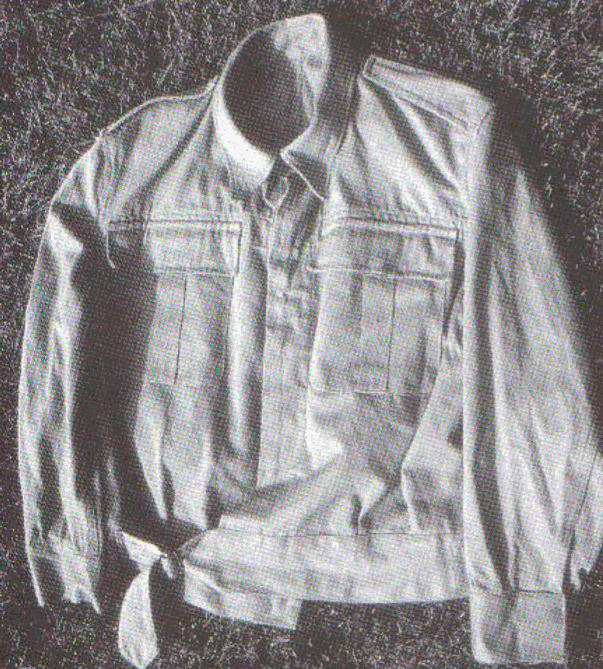 Light khaki denim Canadian BD blouse, this example made in April 1940. This summer version of Battledress, cut like the woollen blouse, was issued only in Canada and not overseas. (Ed Storey Collection)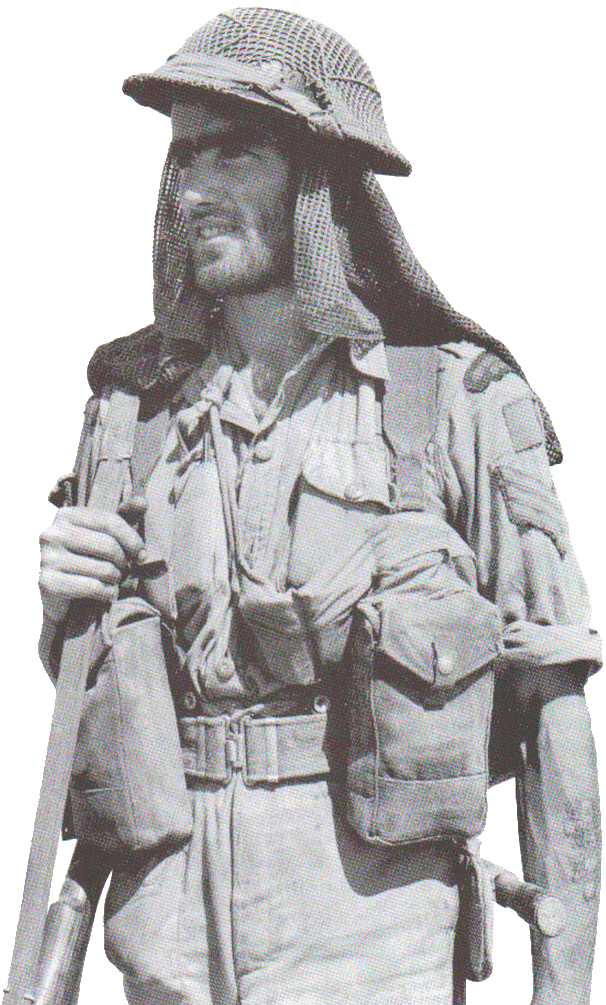 Sgt. H.E.Cooper, 48th Highlanders of Canada, in Sicily on 11 August 1943. This excellent illustration of a 1st Inf Div soldier wearing Canadian KD tropical bush shirt and slacks was widely distributed in the press, but Cooper's superiors were annoyed that he had been photographed unshaven... Note the regimental shoulder title, the red rectangular divisional patch and the sergeant's rank badge all rather roughly sewn to the upper sleeve; and the large khaki plastic removable buttons. (National Archives of Canada, PA130215)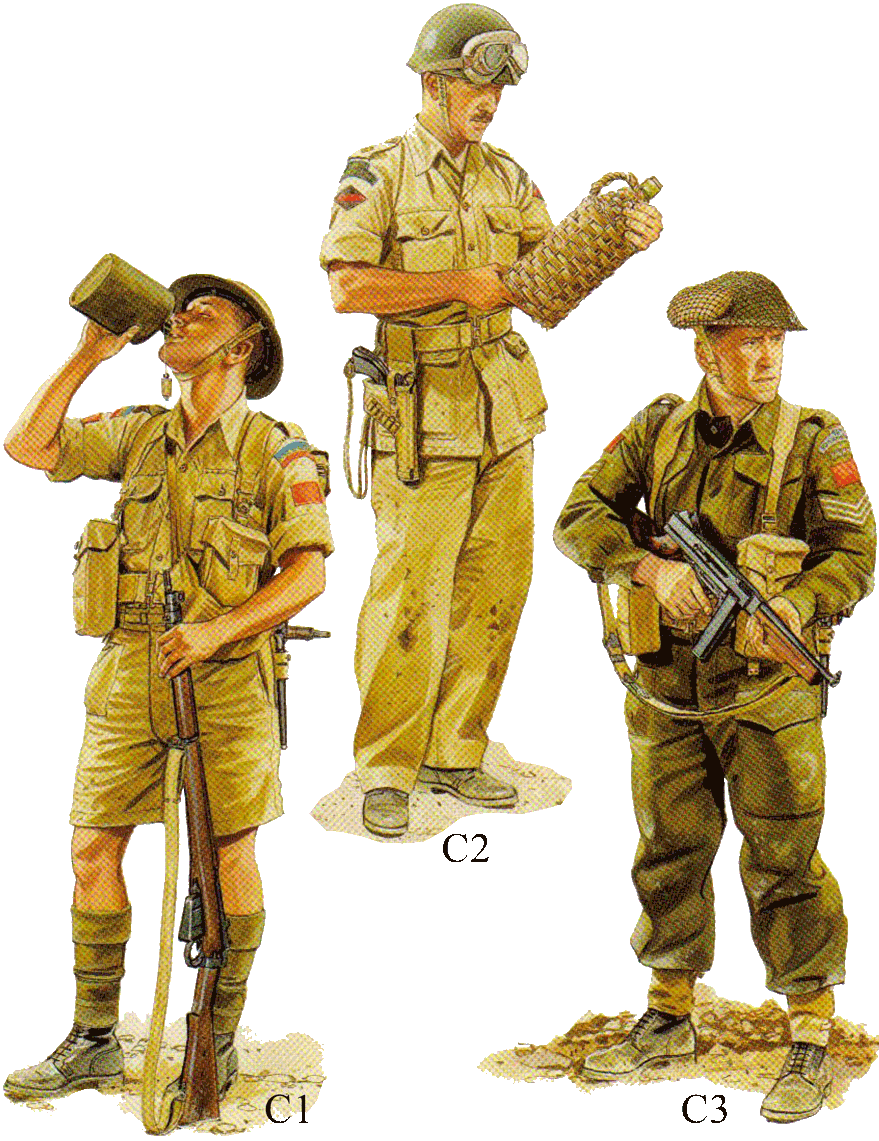 C1: Private, Royal 22e Régiment, 1st Infantry Division; Sicily, July 1943
This figure shows the typical dress - khaki drill shirt tucked into shorts, short puttees and hose tops - worn by the 1st Inf Div in Sicily and southern Italy in the summer of 1943. This famous French-Canadian Regular regiment (always known as the 'Van-doos', after the phonetic pronunciation of the French '22', vingt-deux) wore a large shoulder arc in blue over yellow over red with the full regimental title in black on the yellow stripe. The white-on-khaki 'CANADA' title was sometimes worn between this and the red divisional patch. The WE 37 accoutrements and No.4 rifle were standard issue. (L.Lamontagne, Histoire du Royal 22e Régiment, Quebec, 1964)
C2: 2nd Lieutenant, Ontario Regiment (11th Armoured Regiment), 1st Armoured Brigade; Italy, summer 1944
The old 1st Army Tank Bde was redesignated 1st Armd Bde In August 1943, but its component units were unchanged - the 11th (Ontario), 12th (Three Rivers) and 14th (Calgary) Armoured Regiments, all now equipped with Sherman tanks. The brigade fought in the bitter battle for Ortona at Christmas 1943, and the following year with XIII (British) Corps of US 5th Army in the advance on Florence. This troop commander wears his single buff-on-cavalry-yellow rank 'pip' on his shoulder strap slides, and the brigade's diamond-shaped black and red patch on the shoulders of his Canadian-made KD bush jacket, below a combined national/regimental title. The British Royal Armoured Corps steel helmet is worn with M1938 'Resistol' goggles. Equipment is limited to the WE 37 belt with M1942 (short strap) RAC holster for a 38in revolver.
C3: Sergeant, Loyal Edmonton Regiment, 1st Infantry Division; Italy, winter 1943-44
As the Canadians moved up into the wretchedly cold and wet Appenine Mountains in November 1943. BD and greatcoats were routinely worn but specialised winter clothing was slow to arrive. (Army blankets were turned into 'short coats, fetchingly tailored by Castropignano civilian artisans', according to Farley Mowat of the Hastings & Prince Edward Regiment.) The field dressing is tucked under the netting of the Mk II helmet; like most British and Commonwealth infantry junior leaders on the Italian front this sergeant is armed with a Thompson sub-machine gun, here the M1A1 model. Later examples of the 'CANADA' title were seen in buff rather than white lettering.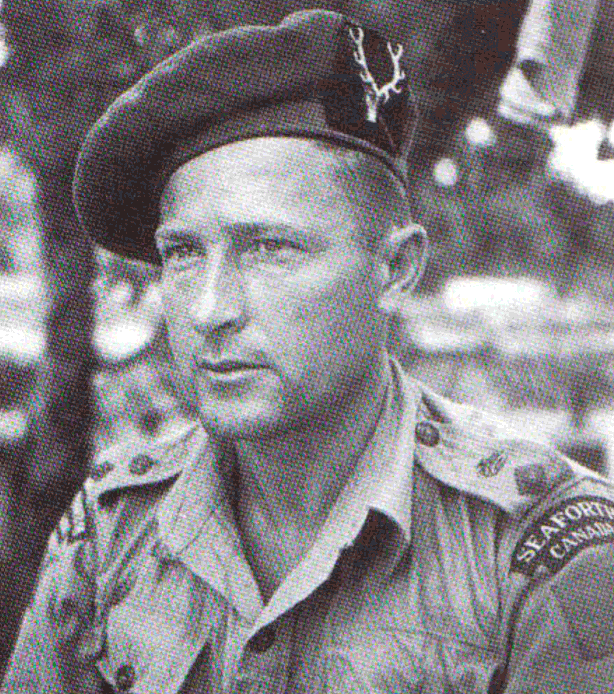 Lt.Col. B.M.Hoffmeister, Seaforth Highlanders of Canada, 1st Inf Div, Italy 1943. He wears the khaki wool Balmoral tam-o'shanter bonnet with the regimental cap badge on a backing of Mackenzie tartan, and the KD bush shirt with his white-on-black regimental/national title above the red divisional patch. One of the Army's brightest officers, Hoffmeister quickly rose to command 5th Armd Div in 1944, and was reorganising the 6th Inf Div when VJ-Day came in 1945. He then left the Army, went into business, and became president of MacMillan-Bloedell, one of Canada's largest companies. (T.Rowe, National Archives of Canada, PA132779)

/ page 21 from 24 /
desktop version of the page
We have much more interesting information on this site.
Click Site Menu to check it out!
∎ cartalana.com© 2011-2020 ∎ mailto: koshka@cartalana.org